Hello, and welcome to the page made just for you - Active Adult Seniors who are "50 or Better"!
The Realtors at New Home Buyers Brokers and Realty Pros are "Senior Specialists"! We understand that at this stage in your life, it's all about the "lifestyle"- you don't need a big yard to maintain (you've "been there, done that" already!), but you might like to have a small vegetable garden and some pretty, seasonal flowers to putter around with- along with some groups or people who share your interests.
You want a community of people around you who share similar interests and life experiences (the majority of most 55 and Over Communities in our Carolinas states are transplants from other areas)- but they all have similar needs and desires for a community of people who "get" where they are at at this stage in their lives. In a 55 and Over community, you can walk right into an instant group people who are in the same boat as you are in, who are looking to make friends and enjoy the BEST years of their lives.
The kids are gone- you may have worked hard your entire life to get to the days where you can kick back and enjoy retirement- or you have raised kids and helped raise grandkids, and want to enjoy the twilight years of your lives. You may be retired, or thinking about retirement - so, now, it's YOUR time; "PLAY" time!
Most people in this population seem to prefer an easy flowing, more casual floor plan ie, no "formal living rooms that they use only for Thanksgiving!", want their homes now all on one level, with no stairs to navigate around (unless it's to a loft or bonus room for crafts or hobbies or for the visiting grandkids).
We know all of the communities and floor plans in the Carolinas pretty much by heart, as we are in the communities 4 to 5 days out of the week, so we're up to date on "all things Active Adult" in both North and South Carolina! We are "Senior Housing Specialists" which means that we specialize in Universal Design / ADA compliant senior housing, and we understand the unique needs that senior adults have. and the decisions they are facing with their usually) last home. Plus, we're not only Realtors- we're General Contractors, too! So we know how to assist you in building a home that will address your concerns.
We have a wealth of great information to share with you when the time is right, so give this site a whirl- and then email us or call us on our toll-free line so we can give you more detailed information and answers to all of your questions: 1-877-372-2252.
"Happy House Hunting"! BBB / EHO / MLS

Click HERE for a presentation of the #1 selling "Active Adult" community of all time- (and the premier community in our area)- 'Sun City Carolina Lakes', by Del Webb!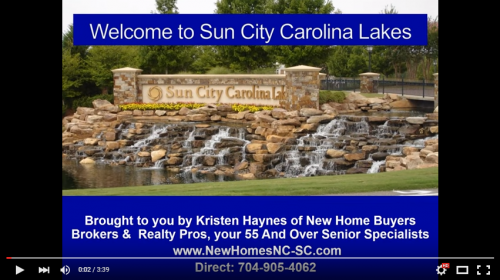 For those of you that cannot open this PDF file, here is the information in text, below:
Sun City Carolina Lakes is the Number-One Selling, Active Adult community in the nation as of 2010. It's being built by Del Webb, the first-class leader in Active Adult homes and communities on the East coast. It's located just across the NC/SC border in Fort Mill, SC (sometimes also called Indian Land, SC). It's an easy, 15 minute commute to south Charlotte. This active, 3,446 Master Planned, 55 and Over community includes a HUGE (40,000 square feet!) clubhouse and amenity center (with a 2nd amenity center planned soon), and it is surrounded by a challenging but fun-to-play, 18 hole golf course. A vibrant, active community lifestyle- ready access to the Charlotte Douglas International Airport, and the nearby, exciting culture of Charlotte have drawn retirees from across the country. There are single level patio homes (ranches), single level villas (both with two car garages), as well as carriage homes (condos with two levels, one separate unit upstairs and one unit downstairs).
Sun City Carolina Lakes is the only 55 and Over GATED community in this area, and it's spread across 1,512 acres of gently rolling hills, with heavy canopies of oak, pine, maple and Leyland cypress trees. In the spring time, the Crepe Myrtles, Azaleas and Dogwoods are in full bloom, affording residents both beautiful views- and heady scents. We have moderate humidity in the south, but it is much less than, say, Florida- with no "no see um's" or mosquito problems that we have at the coast (a few hours south and north of us). This community is an easy, 3 hour drive from Myrtle Beach and Charleston, four hours from Hilton Head, and about and hour and a half from Asheville and the Blue Ridge Parkway.
Uptown Charlotte is a huge draw for this area, as it boasts professional sports teams and arenas (NFL Carolina Panthers and NBA Charlotte Bobcats), a local hockey team (Charlotte Checkers) and tons of performing arts venues and museums, including the new Bechtler Museum of Modern Art, the Mint Museum (traveling exhibits from across the world), and Discovery Place, which is a science museum- great for the grandkids. Johnson and Wales moved their Charleston campus here a few years ago, so fabulous restaurants abound, many utilizing the fresh, natural produce that our region is so famous for. Charlotte "proper" itself is located in NC, and is about 25 miles north of SCCL.
However, with all of the local amenities and activities on-site at this community, like a nice Harris Teeter grocery store, two pharmacies (CVS and Walgreen's), a Wendy's, sub shop, two medical centers, a BB & T bank, a hair and nail salon, a liquor store, and a brand, new, state of the art library (all accessible via golf cart!), many residents here feel the need to venture into "Uptown Charlotte" much less than they would in other communities. There are many Independent Physicians offices (Cardiologists, Physical Rehabilitation, Internal Medicine and Sleep Medicine clinics, etc.) within a 5 to 20 minute drive- plus three major hospitals within a 20 to 25 minute drive. With state of the art, world-class amenities, scenic walking and hiking trails, beautiful views, shimmering lakes over 170 clubs (and counting!), Sun City Carolina Lakes is the cream of the crop in the Charlotte region's crown!
Sun City Carolina Lakes Activities and Amenities
The Lake House, the stunning, 40,0000 square foot Amenity Center, is really the "heart and hub" of the community. It's where everyone gathers to chat and joke around, play, dance, watch movies, play poker or mah jongg, swim laps, do water aerobics, shoot pool, or work out in the state of the art, three story gym (complete with an indoor walking or running track)! The incredible, multi level workout facility offers world class cardio machines and weight machines, an aerobics / dance studio / yoga room, and all of the bells and whistles of a top class, pricey gym. Yet- all of these amenities (pools, hot tubs, walking trails, community gardens and woodworking shops- the list goes on and on here!)- are all included in your monthly HOA dues, which are lower than the national average.
Additionally, there are plenty of hobby and craft studios, learning classrooms, an on site woodworking and stained glass shop, a grand ballroom for parties (which includes a huge teaching kitchen that you can use for your own events), plenty of dances, bands playing, on site movies, a full service restaurant/ Golf Clubhouse, complete with a full bar… an on site computer gathering area, and even a small library for checking out videos and books (in addition to the Del Webb local library branch that is on-site at the community). There's even a coffee shop / breakfast hang out place, perfect for reading the morning's newspaper while catching up on all of the local gossip! An smaller, secondary clubhouse is coming soon, too!
Sun City Carolina Lakes is really like living a big, adult "playground", complete with friends who share the same interests and have lots in common. Many are from the east coast, are "half backs" from Florida, with about 25 % coming in from other areas. There are NY and NJ clubs, Michigan and Ohio Clubs, bridge, Canasta, poker, euchre, mahjongg, bunco and Mexican dice clubs- as well as religious clubs, wine tasting, dinner and travel clubs, etc. etc. etc. If you have an interest, it probably already has a corresponding club in place with folks that share your interests and meet to share their love of the hobby. Or, be social and start your own club!
Surrounding the Lake House amenity center are eight, well-lit, clay tennis courts, a pickle ball court and covered music / lunch pavilion, bocce ball courts, an outdoor resort-style pool with two lap lanes that offers handicap accessible access, plus and adjacent fishing pier on a small lake (already stocked with bass, catfish, perch and brim! There's also a brand-spanking new, second "Outdoor" amenity area, that includes a Kayak / Canoe pavilion and storage area for the same, more community gardens, a softball field, full basketball court, additional pickle ball courts and walking trails. This outdoor amenity center area borders the gorgeous, free-flowing Catawba River; so even if you don't play sports, you can take your golf cart to the Kayak Pavilion and have lunch or wine and cheese, with the scenic background of a peaceful, rolling river right in front of you!
The community is dotted with ten scenic lakes including the above-mentioned lake behind the clubhouse with a fishing pier. Three lakes are fully fish-stocked. The community is linked together via 7+ miles of walking and biking trails that wind through the neighborhood, including surrounding the protected Indian Reserve Artifact areas and federally and state protected wetlands.
Living The Sun City Carolina Lakes Lifestyle
Living at Sun City Carolina Lakes is like living in an "Adult Playground"! Plenty of new friends await, with similar interests and lifestyle needs. You'll also have the direction of a full time activities director to help you get acclimated to the Sun City Carolina Lakes lifestyle, and your own web community, where you can buy / sell / barter, trade gossip or handyman recommendations, or check out the upcoming activities for the day or month ahead. Regardless of what thrills you, you are sure to find other like-minded residents who share your interests in this active community. It is often said, "if you can't make friends at Sun City Carolina Lakes- it's only because you don't want to"! You can stay as busy, or as quiet and contemplative, as you like!
Golfing at Sun City Carolina Lakes
A Sun City is different from any other "Del Webb" community. In fact, there are only 10 "Sun City" communities in the nation. To be called a Sun City, there must be a minimum of 2000 homes (or more), it has to have an adjoining golf course, and it has many more amenities than the 'average' Active Adult communities (indoor and outdoor pool, on site gym, etc). The Carolina Lakes Golf Club also boasts its own Pro Shop and the Blue Heron restaurant, with gorgeous views of the surrounding countryside and of the well-groomed golf course. The upscale, well run, 7000 yard, 18-hole, par-72 course was designed by golf course architect Tim Freeland, and is relaxing, yet challenging to play- with three tee boxes to choose from, depending on your individual level of play. In fact, Golf Digest recently named it one of their 'Best New Courses for Under $75'. As Sun City Carolina Lakes residents, you will receive discounted membership plans and cart fees, as well as preferred tee times.
Real Estate and Homes available at Sun City Carolina Lakes
You'll have your choice of new construction, as well as re-sale homes, at Sun City Carolina Lakes. Del Webb started the community in June of 2005 (and sold an unexpected 430 + homes the very first month alone, Kristen's parents among them)! They are about 70 % through building the community now, and are looking into additional land options (given that this community has been such a resounding success). In fact, they sell an average of one to two homes per day in this community. The floor plans are fantastic- ranging from condos, villas, to three separate series of individual, single family homes, which range from 1200 square feet, and have four that offer a second story lofts or "husband man-cave / extended family / grand kids getaway place"!
Homes go all the way up to 2900 square feet (before adding a finished or unfinished basement, which is available, if desired). The floor plans are all outstanding, and make great use of the natural flow of everyday living- with clean sight lines, big, oversized great rooms, luxurious master bedrooms and gourmet kitchens- complete with your choice of outdoor living options to expand your lifestyle- whether a covered porch, an optional screened in porch, or sunroom. Most of us here actually use our screened in porch for an average of nine months out of the year.

There are 23 different floor plans that have been built in Sun City Carolina Lakes, and there are currently 15 of which are now available that are new construction. Buyers can choose from single family homes, villa condos and carriage homes. Call or email us for details or links to the floor plans. All models have a minimum of 2 bedrooms and full baths, and most have a 2-car garage.
We are here to be your advocate and area tour guide for "all things Carolina"- including giving you special deals and promotions and exact details on the homes in this community (or any other in the Carolinas). We can also show you "non" Active Adult communities also if you'd like. On your visit, you'll be able to see new construction, re-sale homes, any and all communities of interest and tour the model homes and general area. Guaranteed- by the time you leave, you will be an "expert" and will have had a bird's eye view of what it is like to live in the Carolinas area!
Please reach out and call or email us anytime for details or links to the community or to the floor plans. We're here to help guide you through the sometimes confusing options that await you- and we have the knowledge, expertise, and experience to make this the right move for you and your family. So- welcome! And: "Happy House Hunting"!

CHECK OUT OUR HOT, NEW LISTINGS INSIDE SUN CITY CAROLINA LAKES:
JUST LISTED: 4 NEW "ACTIVE ADULT" HOMES FOR SALE IN CAROLINA LAKES! GO TO THE "SEARCH FOR A HOME" BUTTON ON OUR HOME PAGE FOR MLS INFORMATION OF HOMES FOR SALE, WITH PICTURES AND DETAILED INFORMATION!
All homes have 2 Car Garages and are LOADED with options! Amenities include a Clubhouse w/ Activity Director, Indoor & Outdoor Pools, 3 level Fitness Center, Tennis / Boccee Courts, Canoe / Kayak Center, Woodworking, Stained Glass & Pottery shops, Fishing Piers & more!
All of this in a deeded, 55 and Over, Gated, Golf Course community. Full time residents must be 18 years of age or older. We can also help you with homes for sale in other communities!
Call Kristen Haynes, Broker In Charge
Realtor / General Contractor
New Home Buyers Brokers / Realty Pros:
704-905-4062
COMING SOON! Del Webb's "Carolina Orchards"!
11 home designs in 4 Villages, with a total of 722 homes
Homes range from 1,234 to 2,565+ Sq. ft.
Located close to I-77, Highway 160, Highway 21 and Highway 460, and close to Baxter Village, a very popular community in Fort Mill, SC, that has restaurants, shopping, a Lowe's stoe, and more! From this community, you're also a short walk to the nearby Anne Springs Greenway,and this community offers an Indoor and Outdoor Pool, Dancing Halls and Socializing Rooms, an Outdoor Pavilion, and Tennis, Bocce Ball abd Pickle Courts, plus miles of community trails- plus a Dog Park, where your four legged babies can socialize, too! You'll also have a Community Garden, where you can socialize with your friends while growing some delicious, SC tomatoes and other yummy veggies!
This community also offers the 65 and over, SC Senior "Homestead Exemption", which shaves $25,000 off of your SC property taxes, before they are even computed!
Call us for more details!